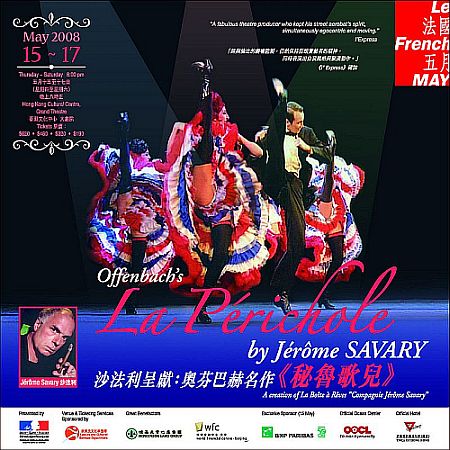 Date:

15-17 May 2008 (Thu-Sat)

Time:

8:00 pm

Venue:

Grand Theater, Hong Kong Cultural Centre


Music: Jacques Offenbach
Director: Jerome Savary
The Opera Society of Hong Kong
Chorusmaster: Raymond Fu
Ariele Zanini, Piano
The Hong Kong Sinfonietta
Conductor: Jerome Pillement

A Le French May 2008 opera program. Performed in French with English and Chinese subtitles. La Perichole is an "opera bouffe" (a genre of late 19th century French operetta) and musical comedy, based on a piece written by Offenbach and staged extravagantly by Jerome Savary. Savary is a French theatre director, scriptwriter, and actor who widened the popularity of music theatre in France through his special blending of the opera, operetta, and musical comedy.
The Cast
La Perichole: Marie-Stephane Bernard
Piquillo: Marc Laho
CHORUS OF THE OPERA SOCIETY OF HONG KONG
The Opera Society of Hong Kong was established in 1992 and has performed more than 15 operas and much of the standard choral repertoire since then. Apart from working with famous orchestras such as the Academy of St. Martin in the Fields, the Hong Kong Philharmonic Orchestra and the Guangzhou Symphony Orchestra, the choir also sang with the Anonymous 4. The CD Fruits on the Tree, which was recorded in May 2002 and published by the Hong Kong Arts Development Council, received great critical acclaim, "well-balanced voice parts, sensational singing, a first class chorus in Hong Kong."

Chorusmaster: FU, Raymond
Assistant Chorusmistress: Leung, Rita
French Coach: ZANINI, Ariele
Rehearsal Pianist: CHEUNG, Ronald

SOPRANO
LAI, Amy
LEUNG, Noel
MAN, Angel
WONG, Pancy

ALTO
LEUNG, Rita
LI, Nancy
SANG, Margaret
TSANG, Shermain

TENOR
CHOI, Alberto
GOATLY, Andrew
LAM, Felix
TAM Chi-ho, Herbert

BASS
CHEUNG, Shu-kan
LAU, Colin
TANG, Sai-kin
WONG, Chi-lok