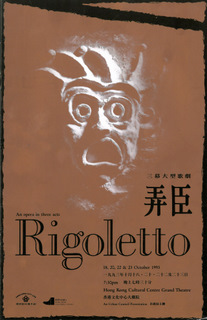 Date: 18, 20, 22, 23 October 1993
Time: 7:30 PM
Venue: Grand Theatre, HK Cultural Centre
Music: Giuseppe Verdi
Libretto: Francesco Piave
Based on a play by Victor Hugo.
THE CAST
Rigoletto: Ernesto Panariello, baritone
The Duke: Warren Mok, tenor
Gilda: Cecelia Wasson, soprano
Sparafucile: Derek Anthony, bass
Maddalena: Blythe Merrifield (18/22 Oct), Ping Wai-ling (20/23 Oct), mezzo-soprano
Monterone: James Butler, bass
Ceprano: Michael Rippon, bass-baritone
Borsa: Wong Chi-chuen (18/22 Oct), David Quah (20/23 Oct), tenor
Marullo: Silvester Che, baritone
Giovanna: Cinde Lee, mezzo-soprano
Page: Fanny Ho, treble
Usher: Colin Lau, baritone
The Hong Kong Opera Society Chorus, Chorusmaster: Raymond Fu
The Hong Kong Ballet, Choreographer: Bruce Steivel
The Hong Kong Philharmonic Orchestra, Conductor: Paul Nadler
Repetiteurs: Anna Chan, Choi Sown-le
Scene Designer: Herbert Janse
Costume Designer: Lorraine Naylor, Law Ping
Lighting Designer: Kim Lee
Technician Director: Ruth Catlin
Director: Tim Coleman
Producer: Lo King-man


Act I
Scene 1: Ah the palace where a party is taking place, the Duke of Mantua, a libertine notorious for his dissolute way of life, tells a lackey about a girl he is planning to seduce. The court jester Rigoletto encourages the Duke's corrupt existence in order to retain his master's favour. The courtiers hate him for his malicious insults, and are waiting for a chance to wreak vengeance. In the meantime, Rigoletto taunts Count Ceprano, whose wife is being molested by the Duke. Old baron Monterone suddenly appears to interrupt the party, denouncing the Duke for dishonouring his daughter. The Duke allows Rigoletto to mock the old nobleman, who curses them both. The curse strikes terror in Rigoletto, for he too, unknown to the court, has a daughter.
Scene 2: On the way home, Rigoletto is still deeply troubled by Monterone's curse. He is accosted by a professional killer, Sparafucile, who offers his services. Having no immediate target, Rigoletto dismisses Sparafucile, and alone broods on his own misery. His daughter Gilda greet him as he arrives home, and they express deep mutual love and care. As soon as Rigoletto leaves, the Duke enters in disguise. His sweet words intoxicate Gilda who falls helplessly in love with him. Noises are heard, and the Duke departs after a passionate farewell. For their revenge on Rigoletto, the courtiers have come to abduct Gilda, believing that she is his mistress. They fool him into thinking that the Countess Ceprano is their target. He realises too late that his own daughter has been taken off. In anguish, he remembers Monterone's curse.
Act II
The Duke, having gone back to Rigoletto's house later that night and found it empty, is now in his palace feeling dejected. The courtiers tell him about Gilda's abduction, and the Duke hurries off to enjoy his new prey. Rigoletto arrives, pretending indifference while searching desperately for his daughter. The courtiers take silent revenge for the injustices the jester has always done them. Their cruel mockery reduces him to abject pleading. Gilda rushes in to confess her disgrace. In a terrible rage, Rigoletto vows vengeance on the Duke.
Act III
Outside the dilapidated inn kept by Sparafucile, Rigoletto has brought Gilda to witness the true character of the Duke whom she still love. Sparafucile, hired by Rigoletto to murder the Duke, uses his sister Maddalena to lure the victim to the inn. Here, Gilda sees the libertine Duke's shameless behaviour. Thinking that she is now convinced of the Duke's worthlessness, Rigoletto sends her home to disguise herself as a man and prepare to leave the city. Gilda obeys only half of his instructions. She puts on the disguise but returns to hear Maddalena persuade her brother not to kill the Duke if anyone should come to be the unfortunate substitute. She decides to sacrifice herself for him. At the height of a storm, she goes into the inn. Rigoletto returns at midnight to collect his victim. As he gloats over the wrapped body, the Duke's voice is heard. Horrified, Rigoletto tears open the sack to find his own daughter, dying. Monterone's curse has been fulfilled.


THE HONG KONG OPERA SOCIETY CHORUS

The Hong Kong Opera Society Chorus was founded by a group of dedicated and enthusiastic singers. They come from all walks of life and share the common interest in promoting western opera and musical theatre to the general public. They first performed in the 1992 production of Verdi?s Otello under the supervision of chorusmaster and chairman Raymond Fu. They aspire to attain the highest standards of performance comparable with the best western choruses around the world.
Chorusmaster: Raymond Fu
Pianist: Fung Yuen-hong, Ivy Lo

TENOR
Andrew Carverhill
Cheung Chun-wa
Neil Drave
Ho Man-cho
Kenny Lui
Ng Chee-sing
Suen Chung-yin
Tsang Hin-fai
Tse Shu-chee
Wong Chi-chuen
Wong Chi-lok
Raymond Yeung
Yip Ling-fung

BASS
Cheng Hoi-chung
Eddy Jang
Edmund Kwan
Lam Ho-chi
Colin Lau
Law Ching-kwok
Leung Yiu-ming
Li Ho-man
Nick Mainprice
Mang Hoi-pui
Eric Tang
Bernard Whaley
Wong Siu-man
Rolief Yam
LADIES OF THE COURT
Wini Chiu
Ho Ming-chong
Lee King-yee
Leung Po-pui
Leung Shuk-han
Yeung Shuet-kwan